Description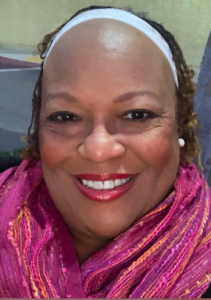 A major focus of Ashay's literary work is writing poetry and narratives reflecting the diversity of the African Diaspora experience.  Dawnna "Ashay" Mathieu is no stranger to the stage. As a native to the City of Los Angeles, she has been performing since childhood.  She began a singing career early on in church. She continues to maintain a strong faith and service by singing are reciting poetry in  the Black church. She formally studied piano at the tender age of 5 and intermittently throughout her adult life. Her gift for writing was discovered in the 10
th
 grade, receiving encouragement and praise from her teachers to attend college.  After high school she entered the military serving in the Air Force Reserve for 6 years and the United States Navy on active duty.
This experience trained her to become a Jet Engine Mechanic and a Navy Hospital Corpsmen. Upon discharge she had an extensive career as a civilian nurse.
Ashay Mathieu decided to pursue her passion for the arts by obtaining a BA in Music, with a concertation in Vocal Performance and minor in Recording Engineering from Cal State Dominguez Hills where she sang in the tradition of the Fisk Jubilee Singer (The first newly  freed Negroes to get a Music degree.) She performed with the Cal State Dominguez Hills Jubilee Choir under the direction of Dr. Hansonia Caldwell. In 2008 Ashay pursued her graduate studies at CSUDH in the
Arts and Humanities program.
While teaching Fundamentals of Electronic music as an adjunct instructor at Compton Community College, Ashay met her current writing mentor, Hiram Simms, who helped her cultivate her creative writing skills. She completed a rigorous creative writing course with the Community Literature Initiative, a nonprofit institute for Los Angeles community writers.  he also studied poetry formerly at El Camino Community College in 2015.  Ashay dreams of combining her love for music and poetry into various transmedia projects. During this pandemic Ashay is currently writing and creating new poetry. She is excited about her contribution to the Humanities and her artistic endeavors contributing to the Arts in the Greater Los Angeles region Inland Empire where she now calls home.